2021 Youth Sailing World Championships
The world's best young sailors head to Oman in 2021
The Sultanate of Oman has garnered worldwide attention as one of the world's most exciting event hosts, boasting an impressive growing roster of international events in several sailing disciplines. The country has also gained notoriety as an emerging tourist hotspot.
In December 2021, one of the most prestigious events in the World Sailing calendar heads to Oman with over 350 of the world's best young sailors taking to the waters of Mussanah for the 2021 Youth Sailing World Championships.
Laser Radial, 29er, 420, Nacra 15, Techno293 Plus and Kite Boarding
Racing will be structured to include five days of racing featuring 350 sailors in separate male, female and mixed competitions. After five days of racing, the winners will be named Youth World Sailing Champion in Windsurfing, One Person Dingy, Two Person Dinghy, Skiff, Two Person Multihull and Kiteboarding classes.
Provisional Schedule:
Day
Date
Time
Remarks
Saturday
11 December

09:00 – 18 :00

18:30 – 19 :00

Registration / Equipment Check / Training

First Briefing for Team Leaders
Sunday
12 December
9:00 – 12:00
TBA
18:30
Competitors Briefing
Practice Race
Opening Ceremony
Monday
13 December
10:30 – 11:00
13:00
Coach Briefing
Racing
Tuesday
14 December
10:30 – 11:00
13:00
Coach Briefing
Racing
Wednesday
15 December
10:30 – 11:00
13:00
Coach Briefing
Racing
Thursday
16 December
10:30 – 11:00
13:00
Coach Briefing
Racing
Friday
17 December
19:00
Closing Ceremony
Saturday
18 December
9:00-13:00
Departure Day
Barcelo Mussanah Resort:
The venue is approximately 100km north of Muscat International Airport. Oman Sail manages all the marina facilities, offering 54 quality berths, dockside support and first-class facilities including boat cleaning, assistance upon arrival, and a fuel dock.
One of Oman Sail's four sailing schools operates from Al Mussanah Sports City and is the base for our National Sailing Teams.
The site has the infrastructure and facilities required to expand the country's existing tourism industry and the capability of hosting world-class events on an environmentally friendly basis.
4-star Barceló Mussanah Resort within the Al Mussanah Sports City.
Accommodation for competitors, coaches, officials and other staff involved in the regatta.
Restaurant and recreation facilities within the event village.
Media Centre with special conference facilities, studios, internet facilities, etc.
A 54-berth marina.
A central drop-off and vehicle parking area including shuttle buses for the event.
Ample storage space/areas for competitors, coaches and equipment providers.
Fully staffed workshop with facilities for sanding, spray, fiberglass and engine repairs.
The international hotel chain Barceló operates on site at the sports city. The hotel has 308 rooms alongside a range of restaurants and sports and leisure facilities. This 4-star hotel is being proposed to accommodate everyone involved in the regatta, from participants and their team leaders, to coaches and event staff.
Additional self-catering accommodation is available in the vicinity of Al Mussanah Sport City for spectators and families attending the championships.
The Sultanate of Oman has made tremendous progress developing the sport of sailing over the last 12 years. The next step in the country's vision to reignite the nation's maritime history is to host the Youth World Sailing Championship 2021, which will bring more of the world's finest young sailors to the beautiful shores of the Sultanate.
Perched on the southeast coast of the Arabian Peninsula, the Sultanate of Oman's stark beauty and vastly contrasting landscapes have enchanted growing numbers of tourists each year. With its magnificent desert, secret oases and breath-taking mountain ranges, Oman is an alluring destination. A tropical underwater paradise lies beneath the turquoise sea, caressing the white sandy beaches that adorn the country's stunning 3,165 km coastline.
Alongside this natural wealth is Oman's rich culture, which blends with modern infrastructure and historical features that span over 7,000 years. Grand forts, exquisite palaces and mystical souqs are sights to behold in the capital, Muscat. A visit to Oman makes you feel right at home from the time you arrive, until the moment you leave. The Sultanate is full of opportunities for adventure, including fascinating tours with an Arabian flavour.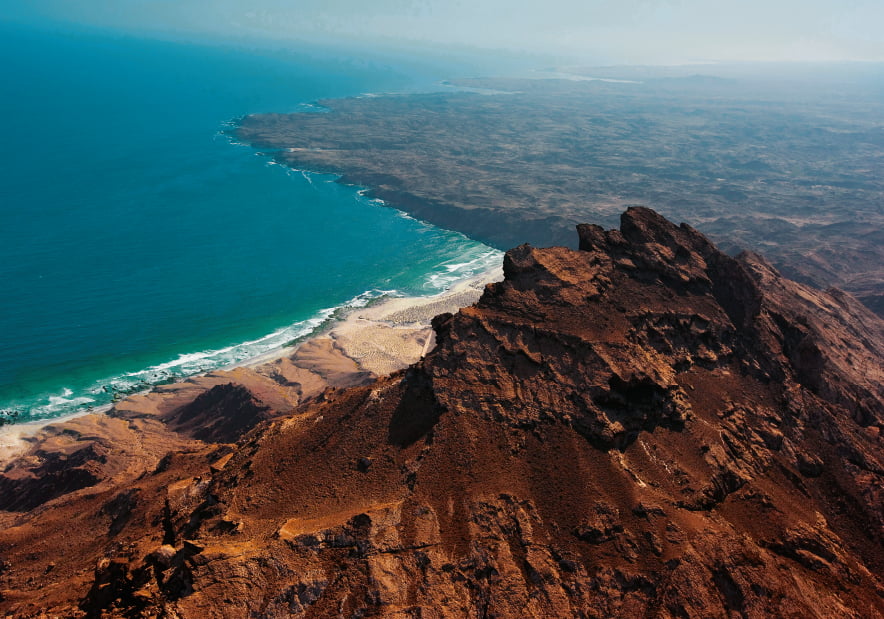 Oman's coastline is a paradise for explorers. Its abundance of wildlife includes whales, dolphins, turtles, seahorses, and flamingos. Underwater, its incredible marine life is found close to the water's surface.
Sands and deserts occupy the remaining area; these include two large sand deserts – The Wahiba Sands known as Rimalat Al Wahiba and part of the Empty Quarter (Rub Al Khali). Here you can learn about Bedouin culture, camp under a dome of stars and experience the beauty of dawn in the desert.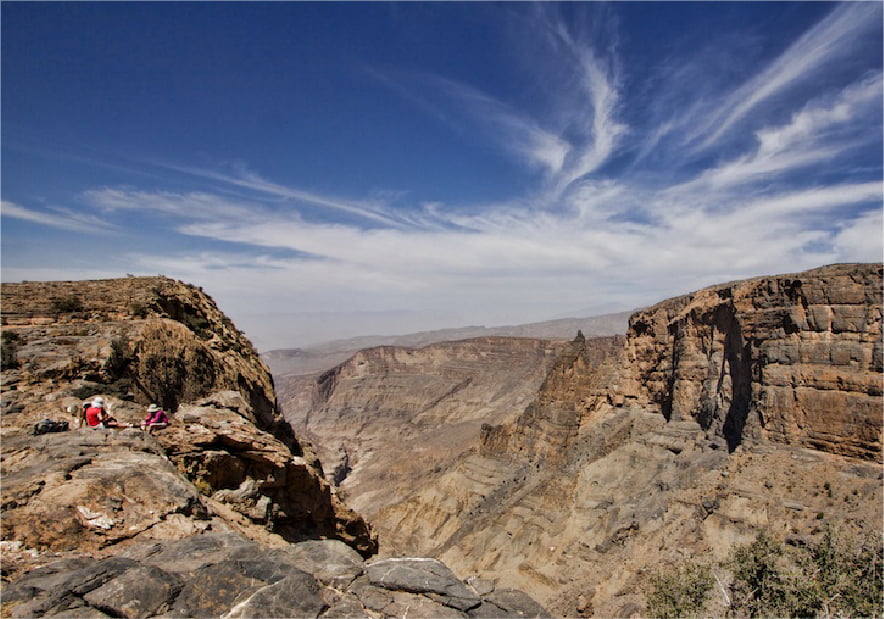 The mountains cover approximately 15% of the country's land mass. Oman's main mountain range is the 10,000 foot Al Hajar, which runs from Musandam in the North to the extreme limit of the Arabian Peninsula, Ras Al Had.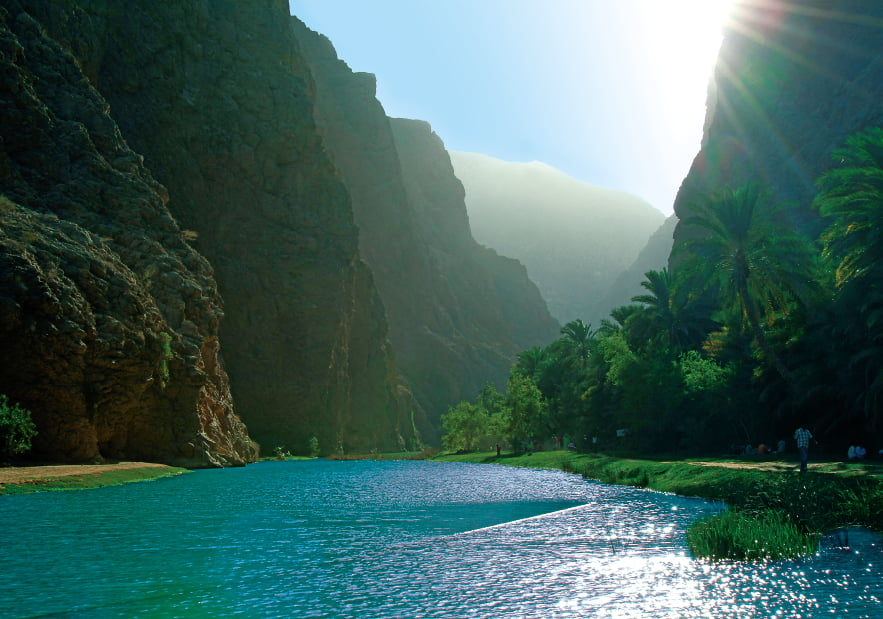 Tropical climate is what Oman is known for whilst still subject to seasonal changes. From November to February, the Sultanate offers a lovely climate, with an average temperature of 24oC. Combined with welcoming hospitality, warm seas and stunning landscapes, you can see why tourism in Oman is a growing industry.
Oman's Vision towards 2040 – Care for Our Environment is Paramount
As the Sultanate of Oman works towards achieving the 12 national priorities set out in its Vision 2040, Oman Sail is fully committed to materially contributing to the prosperity of the nation.
One of the nation's 12 national priorities is to ensure that Oman's beautiful natural landscape is protected long in to the future.
The environmental health of Oman is embedded in every aspect of Oman Sail's activities. The staging of the Youth World Championships would provide a platform for us to drive greater awareness of the importance of environmental sustainability and the added benefits for Omanis for generations to come.
Environmental Education Programme
The Youth World Sailing Championships 2021 will be accompanied by a thorough environmental education programme to raise awareness of being environmentally friendly and protecting Oman's beautiful natural landscape.
As part of this programme, our elite sailors will visit schools, promote the event and encourage all to sign up to the UN Environment Clean Seas Campaign #CleanSeas. Environmental awareness training will be delivered to all event staff and volunteers with a pre-environmental online survey issued to all participants to benchmark their green awareness before and after the event.
Oman Sail aims to create a long-term strategic partnership involving the Environment Authority, Ministry of Agricultural, Fisheries & Water Resources, SeaOman, local tourist SMEs and Five Oceans to launch at the event an ongoing "Dimaniyat Islands Protection" campaign. The campaign will educate visitors how to correctly anchor NOT on the coral and give advice on protecting the Whale Sharks and Turtles.
Average Minimum
Temperature
Average Precipitation /
Rainfall
Average Maximum
Temperature
Average Sunlight
Hours / Day
Oman's rugged landscape dramatically falls away into the sea and influences the wind direction, which is predominantly a land-sea breeze. With a progressive build-up of wind during the early morning, the sailors do most of their racing in moderate and stable 10 to 14 knot breezes.
Mussanah enjoys a stable tropical/sub-tropical weather system which can occasionally interrupt the land sea breeze pattern. However, these pressure ridges have become extremely rare in recent years.
Strong winds known as a shamal can blow in from time to time, usually blowing in at an angle of 325 degrees (north-westerly direction) along the coast. The shamal season is November to February, although they can occur at other times. A shamal can be short lived or can set in for some days. During the winter, the wind is cold and blows from crystal clear skies with speeds reaching up to 30+ knots.
ARRIVALS INTO OMAN INCLUDING COVID-19 PROTOCOL
Environmental Strategic Partners