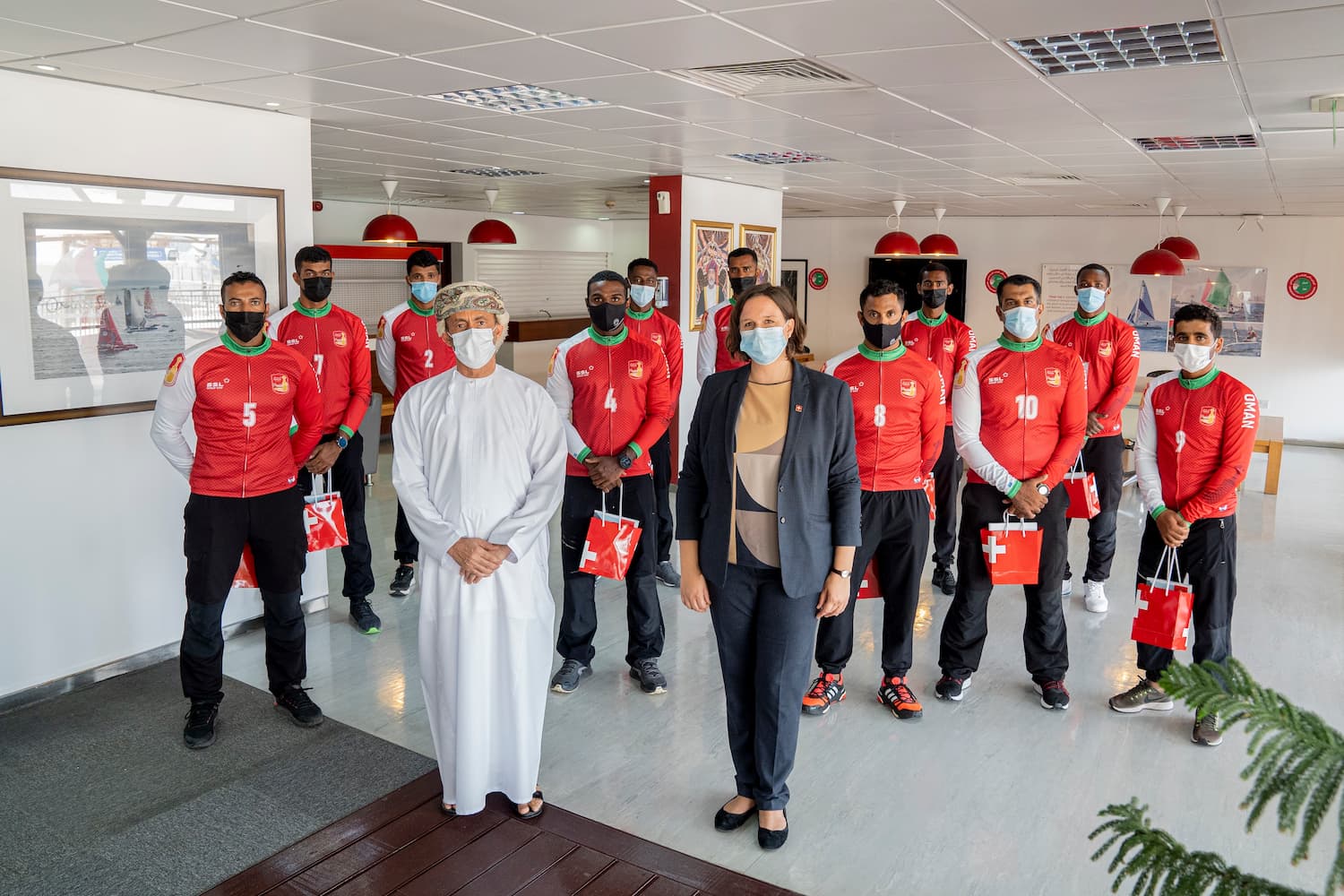 11 August 2021, Muscat: Oman Sail marked 13 years of excellence since its inception. Tasked with rekindling the Sultanate's maritime eminence, Oman Sail has continued to contribute to the sustainable prosperity of the nation and provide long-term learning opportunities for the youth of Oman.
As part of the celebration, and in the presence of Deputy Swiss Ambassador to Oman, Sabina Läderach, Oman Sail marked the occasion by unveiling the team representing the Sultanate in the Star Sailors League, a leading inshore competition scheduled to take place in Switzerland from 19 September to 4 October. Oman has been selected thanks to the sailors' impressive track record and the country's high standing in global sailing. The 12-man team will compete against professional teams from around the world for the Sir Roland Symonette Trophy in what will be the first strong competition for Oman's elite sailors post-pandemic.
Dr. Khamis Al Jabri, CEO of Oman Sail, said, "We are incredibly proud of what Oman Sail has accomplished over 13 years. Having a team compete in the Star Sailors League will provide a great opportunity for us to promote the Sultanate and will give the team a platform to perform and compete against the best. As we celebrate the occasion, we are also looking forward to an incredibly busy period of sailing events that will open the eyes of the international sailing community to Oman."
The winter season will see Oman Sail host three major world championships with the 2021 World Youth Sailing Championships, 2021 49er, 49er FX & Nacra 17 World Championships, and the 2021 ICLA Radial World Championships headed to these shores. Oman Sail will also organise the 2021 49er, 49er FX & Nacra 17 Asian Championships, 2021 Asian Windsurfing Championships, along with regular fixtures in the calendar the Mussanah Race Week and Sailing Arabia – The Tour 2021 to close out the year as competitive sailing returns to the Sultanate.
Dr. Al Jabri added, "I would like to pass my sincerest gratitude to all Oman Sail team for their efforts over the last 13 years. This has always been a team effort and all of achievements still to come are a result of the hard work put in every day since we began."
Oman Sail is also extending its expertise to bring additional high-profile sporting events to the country with the recent announcement that the World Race Walking Team Championships is headed to Muscat in March 2022.