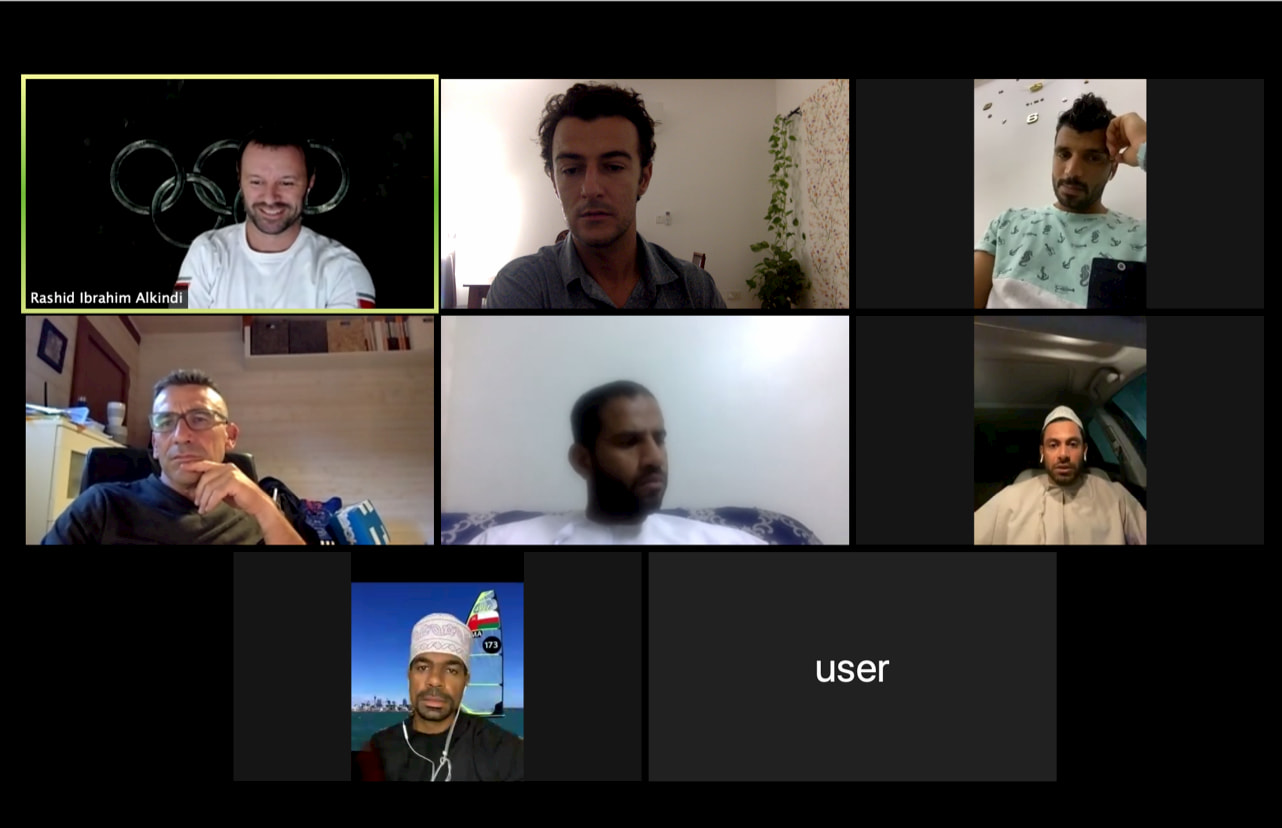 Muscat, 3 May 2020: Oman Sail has taken the opportunity offered by the national 'stay at home' anti-coronavirus guidelines to launch online courses aimed at improving the skills of both sailors and their coaches. Running throughout the holy month of Ramadan the courses are aimed at Oman Sail's sailing and fitness coaches, chief instructors and senior sailors in the performance team.
The courses will cover the latest technical updates in sailing, coaching and race management, ensure that key members of the Oman Sail team are maintaining their fitness levels, and provide an interactive platform for the exchange of knowledge and innovative ideas.
"These online courses provide an appropriate vehicle to keep our sailors, coaches and instructors involved and motivated," said Rashid Al Kindi, Oman Sail's Director of Sailing.
"Senior members of the performance team need to stay fit and focused so they will be ready to resume competition once national and international restrictions are lifted, while it is also a valuable opportunity to invest in theoretical training and develop planning skills across the board.
"We know we will come through the current challenge together, and the online courses are a great opportunity for everyone at Oman Sail to maintain our shared vision and stay positive as we look to the future."
The focused classes will cover the range of skills needed in competitive racing, from pre-regatta preparation, to performance monitoring and a detailed knowledge of the racing rules and technical adjustments.
Oman Sail operates four sailing schools along the coast of the Sultanate, located in Al Mouj Muscat, Sur, Mussanah and Marina Bandar Al Rowdha. The mission is to implement community and professional programmes to introduce the sport to a larger segment of the community as well as train and develop young Omanis to embark on successful sailing careers. Established in 2008 by the blessing of His Majesty Sultan Qaboos bin Said God rest his soul in peace, the organisation has been able to train a strong youth team that is dominating regattas across the GCC and Pan-Arab levels, with eyes now focussed on achieving excellence in Asian competitions. The on-going efforts on the Olympic side are now focused on qualifying a senior team to take part in the Tokyo Olympics in 2021 and aim to win a medal for Oman. Moreover, in the span of 10 years, Oman Sail has been able to host and attract world-class events and Olympic qualifiers, with the latest addition being the 49er, 49erFX and Nacra World Championships planned to be hosted in Al Mussanah Sports City in 2021. The accomplished record made by Oman Sail on hosting sailing events and excelling in the sport provided an ideal a platform to promote the country as a tourism and investment destination.